Three of the most powerful forces in my universe combined this week: an author I LOVE (
Jen Lancaster
) doing in a book signing in the city I LOVE (Seattle, where else?) the same week as my MOST beloved Folklife Festival.
As if I weren't planning it anyway, I'm hereby officially doing a road trip home the end of May. Yes it's awhile off but that just gives me time to ponder the wonderfulness of this triple threat.
First, there's really no need to laud the magnitude of said author. Seriously? Just check out her
blog
and prepare to be converted. 'Nuff said. But what makes it better is that she's condescending to do a signing at one of my favorite bookstores, which happens to be within 10 minutes of my house.
Pretty much the only thing this bookstore DOESN'T have going for it is that it's not in a creaky old building with misshapen, wobbly wood floors and tight, jagged corners wherein to crack open monstrous tomes filled with Russian disparity. Ahhhh.
Luckily, they DO have several restaurants, over sized chess games, and weekly literary readings to make up for it. And the best bit? The used books are mixed right in with the new ones! I know some people prefer the crisp whiteness of new books but old books have history. HISTORY. Reading a used book is like constructing an emotional connection with some unseen spirit of the past. Unless it's a really crappy book, then you can feel all elitist for not having such awful taste.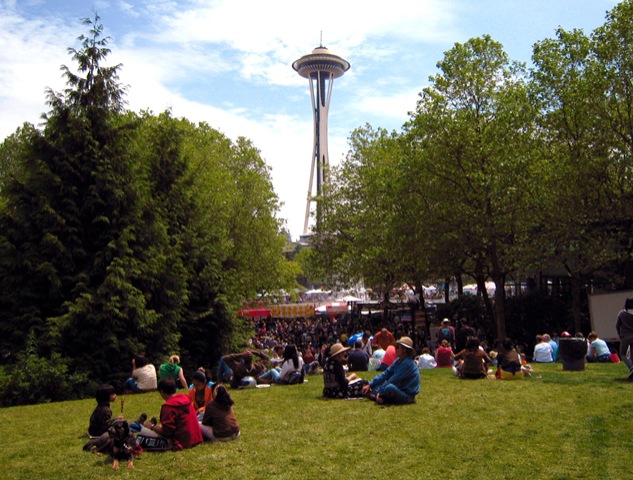 As if it weren't enough the same week we have the Folklife Festival. This is my all time, hands down FAVORITE thing to do in Seattle. Every year that I go I leave feeling like I need to start wearing more tie-dye, and that my (limited) jewelry collection is gaudy and crypto-fascist. I resolve to eat nothing but gyros and peroshki from that point on, and to finally pursue my obvious talents as the key member of a drum circle. In my opinion, if you're too self-conscious to get up and bang along with the group then you shouldn't be allowed to stare at the bra-less hippie dancing next to you. And that's half the fun.
So if you're in Utah, you're invited on my road-trip. And if you're in Seattle, well, you're invited on a one-way road trip back to Utah.
One word of caution, I WILL be singing my family's favorite road trip song . . ."Country roooooooad take me hoooooome to the plaaaaace I beloooohooooong!"